In The Hot Tub While It Snows
This past weekend I finally managed to cross this item off my Day Zero Project list.  Unfortunately the site is down for the moment, so I'll have to update that later.  When Master and me woke up it was spitting snow from the sky, so we decided to throw on our suits and get out there as soon as we could.  Lately, each time we try the snow stops before we make it into the hot tub!  Not to mention, we just have not gotten much snow so far this year, even for this area.  I had actually put my bikini on, but Master mentioned to me that since it was eight degrees outside it would probably be better if I put my sunblock suit on, which has the long sleeves.  He was most definitely right.  (Of course he was.)
I've been avoiding updating about our holidays because they seem to have turned into one semi-big mess.  First off, I've been sick lately.  It started Christmas day, and has just not let up until this past Saturday.  While I do get injured quite a bit (may as well admit it, and if you read my blog, you'll know anyway) but I don't really get colds or flus very often.  Before moving to Colorado I would get sick probably once every other year.  Since moving here I've gotten sick much more frequently, but still not as much as the "average" person.  Probably once per year.  The only thing is, when I get sick – I am down for the count, usually for a week or more.  I'm also a major baby about being sick, which is odd considering I am such a masochist about everything else.  Still, I'm much happier to be back to normal.  Let's hope that this beginning of the year bug was all I'll get for the rest of the year.  That'd rock.
I've also received some bad news about my mother's heart.  She is definitely going to need surgery, it is just a matter of time.  I'm not entirely sure what is wrong, (because once I got my mother on the phone she said she couldn't remember exactly what the doctor said) but they suspect a blockage in an artery.  She also definitely has a weak wall in one of her arteries.  I'm not entirely sure what that means, but since it's her heart how good can that really be?  She is on medication for now which is supposed to strengthen her heart, and I am hoping that it does.  Even more unfortunate is the fact that since my Father lost his job, they only had until the end of December before their insurance ran out.  It is officially gone now, so she is paying for her medication, doctor visits, etc with her credit card.  I'm really scared for her, because if she needs surgery there is no way she can pay for it.  She applied for Medicare, but it takes two months to hear back.  Please just cross your fingers for my Mom.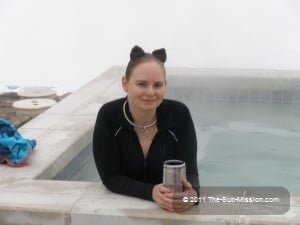 Since I was sick for about two weeks, Master had me resting up and not doing chores.  This past weekend we spent quite a bit of time just tidying up and making the place a bit more organized since we're having company (and needed to catch up anyway.  Both Master and me are really looking forward to it.  Maverick and me have made a bunch of plans for fun things to do the few days he is here.  I think a weekend of fun and games is just what the doctor ordered.  Or the Maverick, anyway. 
The dick stick has come in even more handy lately!  Last night Master found a new use for it, and I honestly don't know why I never expected to see this coming, but I didn't.  That dildo on the end of it is a big heavy silicone toy.  It is very weighty, and Master beat my ass over and over with it.  The sensation was amazing, and nothing like what I thought it would be.  It was a very penetrating, heavy, "thuddy" feel, but because the toy is also floppy – it didn't leave a single mark the next day.  It did make my bum feel "warm" and painful for a while.  I love that feeling. 
This morning I am feeling better than I have for sure the last week or so.  With the snow pounding us this past weekend though, and the sidewalks not clear I called into Physical Therapy and told them I wouldn't be going in today.  Master takes Bettie to work, so I have to walk in the rare event I have to go anywhere.  I asked Master how the sidewalks looked when he drove by this morning, but he didn't think it was safe to walk. 
I'm off to be a good kitty!  Mew. =^.^=