Bondage Ballet Boot Training
A while back, I purchased these boots, after saving up allowances for a while.  I will admit up front that when I first purchased these, I had thought that their purpose was to make me completely helpless, unable to get away or stand up, and Master seemed excited about this too.  (Or else, I would not have purchased them!)  As soon as they arrived, I was too excited to sit still, and I put them on.  Master loved the look of them, but it turns out that he had been spending some time on YouTube looking at girls who could walk in this style of boot.  Some could not just walk, but dance.  The wheels started churning in his head just like the knots now churn in my belly thinking of how Master would like me to be in these boots one day.
I have no ballet training whatsoever, and certainly not pointe.  These boots put you on the very tipity tops of your toes.  These types of shoes are not designed to walk in.  Repeat:  BONDAGE BALLET BOOTS ARE NOT DESIGNED TO WALK IN.  If you buy a pair, trip, and break your leg – we will NOT be held responsible.  Walking in these are a terrible idea which we do not recommend.  However, it is a terrible idea which WE are going to go through with anyway.
*Clears throat*  Now that the usual disclaimer is out of the way:
We started off with these very, very slowly!  Master had initially only had me wearing them for thirty minutes a day.  I didn't need to try to stand in them or anything, but I just had to get used to having them on my feet.  Autumn (from the sub-shop link I posted) recommended buying these one size larger than normal, and I really wish I hadn't.  My toes kind of swim on the bottom, but I'm getting used to it with time.  At first, it felt a bit torturous to wear these, even just to play video games or sit and read a book.  As beautiful as they are, they put your feet in a position that your feet really aren't in naturally.  We like this particular pair though because it gives you some ankle support if you put them on tight enough.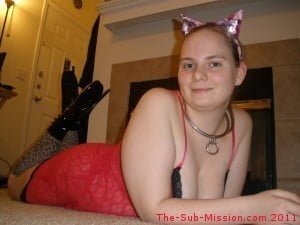 In truth, I actually cannot put these on myself tight enough.  Master always helps me lace them, but I get them off myself just fine.  After he gets them on me (I am always sitting in a chair when he does this) he helps me to stand.  I still need quite a bit of help with standing in these.  Happily though, I've gotten to the point where I do not need Master's help to stay balanced once I have these on!  I was very, very proud of myself last night.  He helped me stand up, and for a while he let me lightly use his arm or chest to keep my balance.  Then, leaning very heavily on him, he helped me move four or five steps to the mantle.  He walked away to get the camera, and I took both of my hands off of the mantle for a very short time (maybe four or five seconds).
That may not sound like a long time, but Rome wasn't built in a day.  I am amazed that I've gone this far with this task Master has set before me.  It has definitely not been easy, and we even had to take about two months off from my training while I took care of a completely unrelated injury.  I felt like we would be starting from square one for sure last night, when Master suggested we should be getting back to training.  As it turns out though, walking in bondage ballet boots is like riding a bicycle.  Once you learn how, you don't forget.  Now, to just take one tiny step on my own!
Since we do this training almost every day, I won't be posting about each session.  I will let you guys know when I make another breakthrough though!