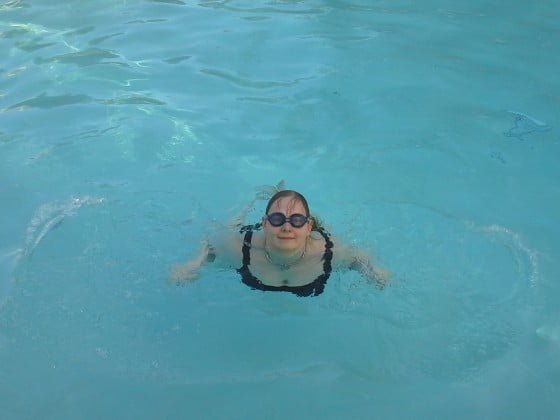 A couple of nights ago, we noticed that the pool was completely empty and we thought, "why not?"  We got our bathing suits on and jumped into the pool.  It has been a while since I last swam, entirely due to illness.  Am I giving up?  HELL NO I AM NOT GIVING UP.  It might take me forever and ever but I will eventually learn to swim well.
Of course, since it had been nearly a year I admit I felt a little nervous up front.  It took a few minutes working with Master Pravus before I was able to put my face in again.  He offered to spot me on a float and I said that sounded good.  Next thing I knew, I was floating without help!
And then, of course, I started practicing bobs and front floating, and side strokes and!  And!  It was awesome.  I really started to feel comfortable and it was nice doing a couple of laps in the pool with Master.  I mean, I have a lot of work to do still.  I have to learn rotary breathing which is going to be the bane of my existence, I can tell, but this was a nice re-introduction for me.
I'm really not well enough to sign up and take an hour long class right now, so Master Pravus and me are just going to go down to our regular pool and work on it ourselves this summer in bits and pieces as I am physically able.  The pool is really really shallow (four feet at the deepest part) so I don't feel too threatened by it.  I'll be swimming like a fishie in no time!