Today I have a few is a gratitude pictures for @Saynine and @Jewelgen on Twitter. A few weeks ago I made a whiny as fuck comment after getting ostomy supplies in the mail (for perhaps the fifth day in a row) that the only packages I ever get in the mail lately are medical supplies, and how I never enjoy the mail anymore. I used to get really excited about packages but, when they are stoma powder or more wafers, well, it's hard to get too excited.
As I was sitting down doing some sewing today, I got a knock at the door.  It was the post man and he had a package for me.  I thought it was supplies again, until I realized that underneath the top wrapper, the box said "Kitty" on it.  What company could possibly know my nickname??  I opened the box, and this is what I found: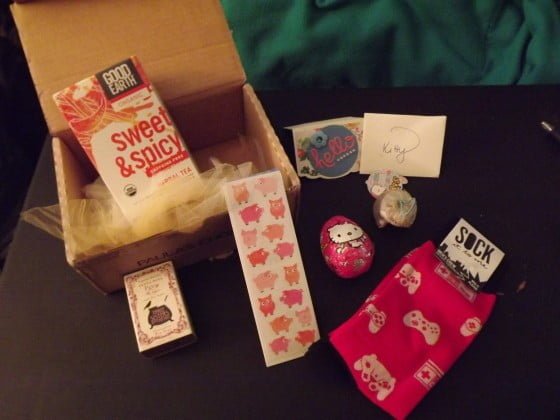 They both know me pretty well, because LOOK AT THIS BOUNTY!  It's pretty much perfect for me!  First of all there's a box of tea, some pig stickers (oh my gosh the faces are all so CUTE!), a Hello Kitty chocolate egg with toy surprise inside, a little plush hamster (OMG, it's pretty much adorable), some delicious smelling plum and nutmeg soap, and gamer socks.  Totes perf.  I better not whine about only getting poop baggies in the mail anymore, because it would be a complete lie.  Thank you both so much, it was so awesome, and I am beaming over here.  See??
I'm so fortunate to have met Saynine and Jewelgen a couple of years ago at Sin in the City after knowing them on Twitter for a while. You both have made my day so very much! Thank you thank you thank you for my special Kitty box!
=^^=