And Lo! When I awoke on the Fourth of July I was happy to say that there was actual output in my bag. Gob was starting to move at last, which meant that I was starting to feel a bit better. I wasn't completely better, but I was better enough that I had a bit of energy and I tried to dress up cute for the day. I went into my closet and I found a cute dress that I know Master Pravus likes that I hadn't worn in a while. I put my hair up in a garlic knot, and I put kitty ears on. I got my favorite pair of earrings on and I put a little strawberry barrette in my hair (because strawberries remind me of Summer) and I went into the front room to greet Master Pravus.
We didn't have any specific plans for the day. Not really. Of course he wanted to do a fire, and we both wanted to play with the fireworks we got last week, and maybe some pink pool time and all the usual "summery" activities. Monday was supposed to be the hottest day of the weekend with no rain or chances of thunder or storms so it really seemed like it was going to be awesome.
When Master Pravus saw me dressed up all cute, he told me he just wanted to take me out somewhere and he asked me if I wanted to go to Starbucks for a tea! Of course I said "Yes, please!" It being too hot for my usual green tea I got an iced peach lemonade green tea! Nom! Spoiled Kitty am I.
We went home, and Master had a bit of yard work he wanted to do. Nothing too fancy, but we have a couple of wasps in our yard. OK. Several. A lot. Wasps are no good for anybody involved so we had gone down to our local hardware store and bought one of those delightful zapper thingies that you plug in and it attracts the flying bugs to it and then BBQs them to smithereens!
We also got a super cheepola wasp trap that traps the wasps, but not honeybees and attracts them to it to hang somewhat near the zipper-zapper. So, Master Pravus was outside hammering and nailing and ladder climbing to hang these things above the shed and to move the fire pit stuff a little bit so that we weren't sitting directly by the wasp nests later on when we went outside for the Summer stuff.
Wild kitties are not often seen in the heat of the day, but here's a brief shot Master Pravus snapped of me when I was bringing the sun tea I was brewing back into the house.
After lunch, Master Pravus decided he wanted to go out and get Dongalor a cat tree.  It's something we've been talking about a lot because Dongalor is a climber and he gets himself into lots of trouble by climbing things.  He has knocked Bankie down off of the printer several times and we're worried he's going to knock the printer down one of these days.  He gets into really high places and causes all kinds of problems though and we felt like he really needed somewhere safe for him to climb that he couldn't actually get into trouble. 
We were also hoping that maybe, just maybe – it would distract him from the more expensive things like the printer and laptops (which are up on high shelves)!  While I was having a "vertical" day seemed as good a day as any, so off we went to the local pet store to choose Dongalor's new Tower of Power!  Just for the record, it's not like Styx can't use it too, but Styx is an elderly kitty who has kidney failure and we didn't think she'd be up for climbing.  She's not banned from it or anything.  Once Master Pravus chose the cat tree (more like funhouse) he wanted, he loaded up the car, and we headed back home.
Master Pravus decided it was pink kitty pool time, of course so he had me change for maximum splashability.
Seeing as though it's our own back yard and our private tent, I just put on a slutty crop top and some black shorts. No bra, of course.
Master Pravus always says that no bra is the best bra!  For the record, I wasn't sunburned here.  We use SPF 100 sunblock that I reapply consistently, that was just the pink reflection from the pool.
We spent hours outside in the pool.  The bathroom is right by the back door to the house and so is the kitchen which is pretty convenient.  Master Pravus had the mister snake going to keep himself pretty comfortable and he pulled his camping chair up to the pink pool and put his feet in so I could keep sponging his legs down with pool pig.  It's one of the best ways to pass the Summer by.
After the pink pool, I changed back into my normal clothes and we put the Tower of Power together.  Or, Master Pravus did.  I'm not really super handy with building things, but all of the pieces of the tower were labeled, so Master Pravus told me which bits he needed when and I would dash about to pick them up and bring them to him.  As soon as I looked at the sheet that had the instructions on it, I panicked.  There weren't any words, there was just a diagram and about a hundred parts.
"This looks hard!"
"It's easy," says Master.
"It has a million pieces!"
"Less than our Ikea bed," says Master.
He had me there. Step one: remove all pieces of the Tower:
I mean, if you're going to take all the bits out of the box though, you're going to expect that kitties will probably move in. Piggies too, possibly. That's Redd. Redd wanted to go in the box. Of course once Master saw me in the box with Redd he thought I looked cute and decided to give me all the neighboring piggies to put in there with me.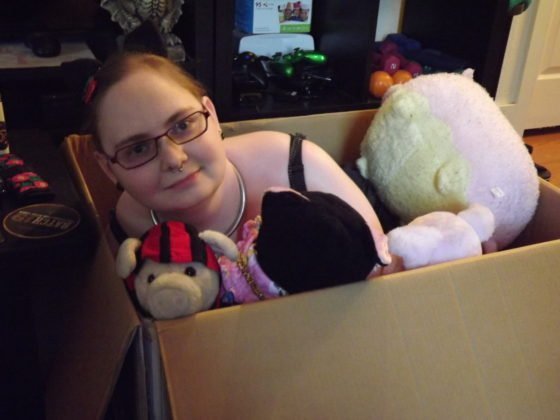 Applepig is outshining me here. Fucking pig.
Redd was trying to make a break for it here because he gets claustrophobic sometimes and he doesn't like being in the box as much as me and the other piggies do.
Master probably would have let me stay in the box forever, because he kept telling me how cute I was, but I felt bad for Dongalor so I got out of the box to help build the tower eventually.
The Tower built, it was time to leave it alone for Dongalor (and possibly Styx) to get acclimated to and go about getting the grill ready for dinner.
While Master was grilling, I chiefly busied myself by pretending to be an Ent and throwing Pop-Its down at the same time as I stomped my feet.  Master Pravus got a kick out of this and could not stop laughing.  Side note: you can see that bug zappy thing in the background to the left!
Here's the giant box of fireworks we had set aside for the night!  The real shame is that we didn't really get that much stuff played with because it was a work night and we were both getting kind of tired by the time it was starting to get dark out.  Master Pravus' hours at work changed so he is up even earlier now (and out earlier, too) but that means he doesn't really push it and stay up late even on holidays unless they fall over a weekend and not on a Monday like this one did.  We did pull out the jumbo morning glories, which were a complete let-down.  All but the last one went out halfway down!  What crap.
The irony behind this photo is that both of our morning glories blew out at the same time. We tried relighting them, but this was just a crappy batch. Although like I said, the very last one did light.
Since it was getting late, we put our little campfire out and headed inside to clean up and get ready to go to bed so Master Pravus could be up really early.  Also, we wanted to check and see how Dongalor was doing with his new present, of course.
Hmm. I think he likes it.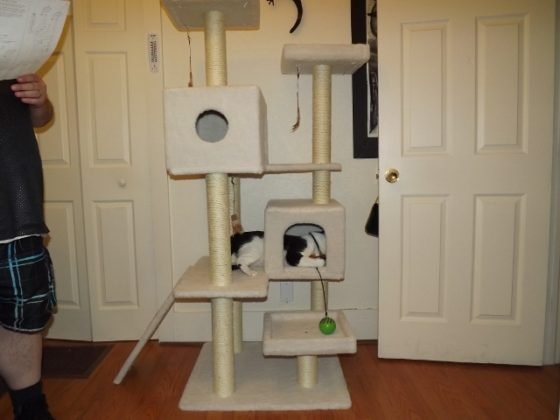 Yes, he does! Bonus Master leg. Hehehe.
We had a really great Fourth of July. The only thing we both thought was a slight let-down was that we didn't have enough time with the sparklers and fireworks due to time constraints, but that just means we will be able to whip them out all Summer long until we use them up!